History - Russian State Jewels Auction 1927
Russian State Jewels Auction in London, 1927
The Illustrated London News, February 26, 1927
Russian State Jewels to be auctioned in London: Historic Gems
"A sale of great historic interest is announced to take place at Christie's on Wednesday March 16, when some magnificent jewellery that formed part of the Russian State jewels will be put up to auction. They do not include, however, any of hte personal treasures of the late Imperial family. Most of the pieces date from the eighteenth century, and wer made during the reign of the Empress Elizabeth and the Empress Catherine the Second by the famous French and Russian jewellers of that period. These jewels were bought by an English syndicate,and are being sold to close a partnership account. The sale catalogue contains 124 lots, but many of them consist of pairs or sets of articles. We illustrate here some of the most important pieces, including the "Nuptual Crown." Among other lots of great value and interest are a Court sword said to have belonged to the Emperor Paul I., with hilt and guard entirely formed of brilliants; and a gold cup, with cover and stand engraved with a Russian inscription recording that it was presented to General Ivan Petrovitch Soltykov in 1790, by the Government and people of St. Petersburg."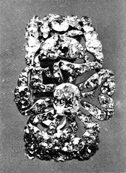 One of a pair of diamond bracelets with bands of foliage design and a large oval centre stone.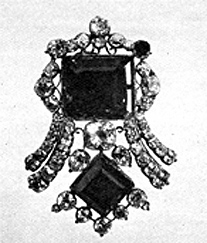 An emerald and brilliant ornament, with two large square emeralds in brilliant scroll borders mounted as a pin.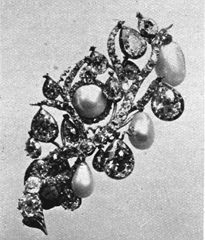 A pearl and diamond ornament, designed as a spray of foliage, with pear shaped diamond drops, three drop pearls and one bouton pearl.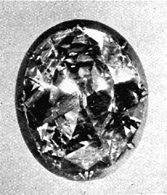 A splendid large oval brilliant as a brooch. The setting is engraved with the weight of the stone - 40 19-32 carats. It was formerly valued at 115,000 roubles.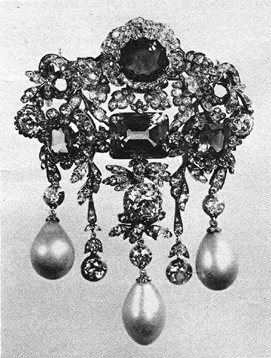 A magnificent brooch, with diamond foliage-pattern ground-work, the top set with a superb emerald, and oblong spinel and two sapphires.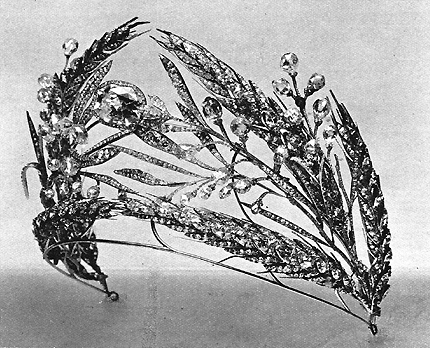 A diamond tiara, designed as wheat-ears and foliage and set with briolet and oval brilliants, the largest centre stone being a white sapphire: a piece added to the Imperial collection after the death of Marie Feodorovna, wife of Paul I.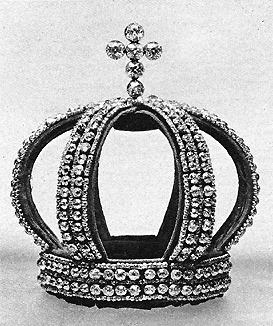 The "Nuptual Crown": a crown entirely composed of double rows of fine brilliants in borders of smaller stones, and surmounted by a cross of six large brilliants - on a setting of red velvet.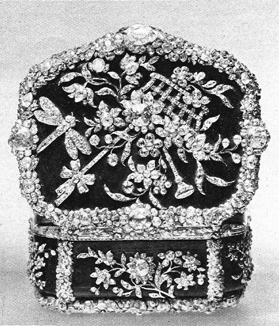 A green jasper snuff-box, mounted with gold borders finely chased with flowers and foliage in vari-colored gold, in the style of the period of Louis XV, the panels and borders in diamonds.