Rooms of the Right Wing - Bedroom of Empress Maria
Birthplace of Nicholas II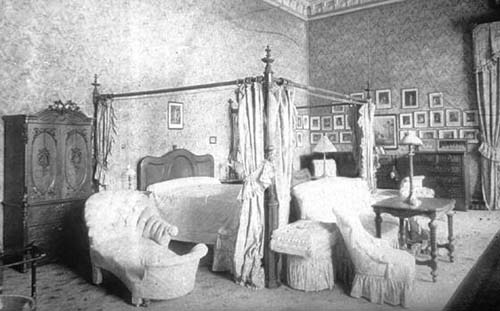 Maria Fyodorovna loved Tsarskoe Selo, while her husband Alexander III preferred Gatchina. The Imperial couple was expected to spend a part of the social season here in Tsarskoe Selo. Alexander found the parties and balls of Tsarskoe Selo a burden, but he bore them in gruding silence to humor his wife - she loved the relatively casual and elegant social life here. The Alexander Palace was the traditional home of the heir to the throne in Tsarskoe Selo and it was the home of Nicholas I, followed by Alexander II, then his son Alexander III. Nicholas II and his brother George were born in this room. Nicholas II spent his first night with his new wife, Alexandra, in this room. The wife of Nicholas I, Alexandra, died here on October 19, 1865.
These rooms were very similar to other rooms of the 1840's in other palaces and have walls covered with chintz which matches curtains and upholstery, creating an overall effect of plushness and uniform color. The room was redecorated a number of times in the 19th century. The room as we see it here is basically the work of the architect Stackenschnieder in 1845.
After the death of Alexander III this room - and all of the other his and his wife's other rooms, were frozen in time. The only change to the rooms were paintings taken away to become the nucleus of the Alexander III Museum in St. Petersburg, now known as the Russian Museum. This part of the palace turned into a kind of museum to Nicholas' parents and was carefully cleaned and kept in tip-top condition by palace servants. After the revolution these rooms were opened as part of the Alexander Palace Museum. They were taken over by the Secret Police as a private resort in the early 1930's.
Bob Atchison