ZOOM Fabergé Eggs - 12 Monogram Egg
1895 gift to Maria Feodorovna, workmaster Michael Perchin
12 Monogram Egg (1895)
Materials: Red gold, rose-cut diamonds, portrait diamonds, translucent blue enamel, velvet lining
Dimensions: Height of egg: 79 mm. (3 1/8 in.)
Diameter of egg: 56 mm. (2 3/16 in.)
Owner: Hillwood Museum and Gardens, Washington, DC
In 1895 at Easter the 12 Monogram Egg was presented by Tsar Nicholas II to his mother, Marie Fedorovna, in memory of her late husband Tsar Alexander III. He had died the previous November and the House of Fabergé had only six months in which to design and make the egg.
The gold egg is covered with six blue champlevé enameled panels, each panel being divided by bands set with rose-cut diamonds, gilt with scrolls, and decorated with the Imperial crown and the Imperial monograms "MF" and "AIII," which are set in rose-cut diamonds, each monogram appearing six times; a portrait diamond surrounded by smaller diamonds surmounts the egg and another is set under the egg. Marie Fedorovna's monogram appears on the top half of the egg, Alexander III's, on the bottom half. The egg opens but the surprise is lost.
From this point on there are two eggs made each year, one for the Tsarina Alexandra Fedorovna, and one for the Dowager Empress Marie Fedorovna.
In 1949 Marjorie Merriweather Post, General Foods heiress, purchased the egg. In 1973 after her death the 12 Monogram Egg became part of the collection of Hillwood Museum and Gardens, which had been her home in a suburb of Washington, DC.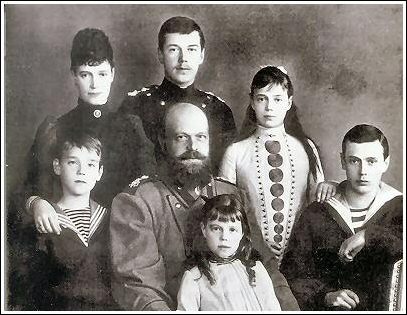 Family of Alexander III and Marie Fedorovna. FutureTsar Nicholas II (far right).

Selection of 18 Russian Rulers during 300 Years of Romanov Rule.