ZOOM Fabergé Eggs - Coronation Egg
1897 Easter gift to Alexandra, workmasters Michael Perchin & Henrik Wigström
Coronation Egg (1897)
Materials -
Egg: varicolored gold, translucent lime-yellow and opaque black and blue enamel, diamonds, off-white velvet lining
Coach: gold, platinum, strawberry red enamel, diamonds, rubies, rock crystal
Dimensions -
Height of egg: 127 mm. (5 in.)
Length of miniature: 93 mm. (3 11/16 in.)
Owner: The Link of Times Foundation Collection, Russia
The Coronation Egg and its coach are probably the most recognized of the creations of the House of Fabergé. This superb red gold egg, enameled translucent lime-yellow on a guilloche sunburst field, is enclosed by a green-gold laurel leaf trellis-work cage, mounted at each intersection by a yellow-gold Imperial double-headed eagle, enameled opaque black and set with a diamond. A large portrait diamond is set at the top of the egg, within a cluster of ten brilliant diamonds. Through the table of this stone, the monogram of the tsarina can be seen, the crowned A described in rose-cut diamonds and the Russian F in cabochon rubies set in an opaque enamel plaque.
The surprise concealed inside this elaborate shell is an exact replica of the Imperial coach used to carry Alexandra Fedorovna to her coronation in Moscow in May 1896. In yellow gold and translucent strawberry-colored enamel, the coach is surmounted by the Imperial crown in rose-cut diamonds and six double-headed eagles on the roof; it is fitted with engraved rock crystal windows and platinum tires and is decorated with a diamond-set trellis in gold and an Imperial eagle in diamonds on either door. It is perfectly articulated in all its parts, even to the two steps that may be let down when the doors are opened, and the whole chassis is correctly slung. The interior is enameled with pale blue curtains behind the upholstered seats and footstool, and has a daintily painted ceiling with a turquoise-blue sconce and hook set in the center. The hook may have once held a tiny egg-shaped, briolette-cut emerald pendant, which is now missing along with the original display case and the egg's stand.
The Coronation egg commemorates the coronation of Nicholas II and Alexandra Fedorovna in Moscow's Uspenski Cathedral on a cloudless, blue day, May 26 (OS), 1896. The celebrations, however, turned to disaster the next day, when hundreds died and thousands were injured in a stampede for free beer and coronation souvenirs at Moscow's Khodynka Meadow.
George Stein, who made the exact replica of the coronation coach, spent 15 months – sometimes working 16 hours day – to complete it. He used the money he received for making the miniature coach to buy a less grand form of transport—a bicycle!
The egg has had only a few owners:
Easter 1897 - presented to Alexandra Fedorovna and housed in Alexandra Fedorovna's study at the Winter Palace

ca. 1927 sold by the Antikvariat, Moscow, to Emanuel Snowman of Wartski, London
1934 bought by Charles Parsons, London
1945 bought back by Wartski
1979 sold by Wartski, with the 1898 Lilies of the Valley Egg, for $2,160,000 to Forbes Magazine Collection, New York
2004 returned to Russia, its country of origin, after a private sale for an undisclosed sum to Viktor Vekselberg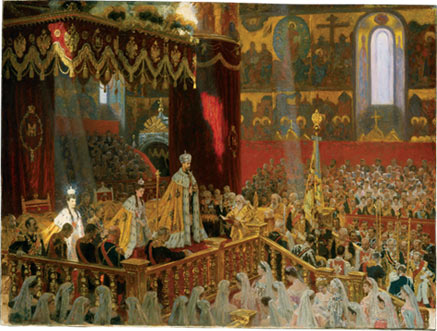 Coronation of Tsar Nicholas II
(Detail from a painting by Laurits Regner Tuxen, 1898)