ZOOM Fabergé Eggs - Alexander III Equestrian Egg
1910 Easter gift to Maria Feodorovna, workmaster unknown
Materials
Egg: platinum, portrait diamond, rose-cut diamonds, rock crystal
Miniature statue: green gold, lapis lazuli, rose-cut diamonds

Dimensions
Height of egg (inc. Base): 155 mm. (6 1/8 in.)
Miniature: 50 mm. (2 in.) x 75 mm. (2 15/16 in.)

Owner: Armoury Museum of the Kremlin, Moscow

The rock crystal egg contains a green gold replica of the monument to Tsar Alexander III by Prince Paolo Trubetskoi (1866–1938). The statue resting on a rectangular base of lapis lazuli is bordered by two rows of rose diamonds. The Renaissance-style egg is covered with a platinum lacework strewn with rose-cut diamonds, while a large diamond surmounts the egg and is engraved with the year 1910. The two platinum double-headed eagles on the sides of the egg have diamond crowns. The surface of the egg between the eagles is engraved with branching patterns that are joined at the bottom. The lower hemisphere of the egg serves as a platform for the replica of the monument and is supported by cast platinum cherubs coiled into position on a base of crystal shaped like a four-petaled rosette.

The Alexander III Equestrian Egg is part of a series of memorial eggs made for the Dowager Empress Marie paying tribute to her late husband, Tsar Alexander III. Three others are missing -- the Alexander III Portraits Egg (1896), Alexander III Medallion Egg (1902), and the Alexander III Commemorative Egg (1909). The Dowager Empress Marie Fedorovna had approved Trubetskoi's designs for the sculpture. It was unveiled on May 23, 1909, in St. Petersburg's Znamenski Square in front of the Nicholas Railway Station, the starting point of the Trans-Siberian Railroad. Alexander III during his reign initiated this immense project. The statue has been relocated to a place of prominence in front of the Marble Palace. A reduced bronze replica of the Trubetskoi statue is shown below next to the golden Fabergé statue.

The egg was given by Tsar Nicholas II to his mother at Easter 1910 and cost 14,700 rubles.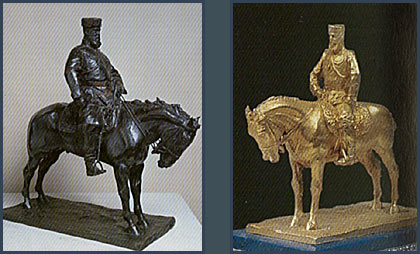 Von Habsburg, Geza. Fabergé/Cartier – Rivalen am Zarenhof, 2003.